---
Dr. Lynette Lim
---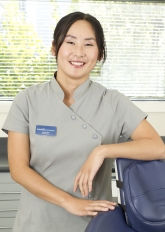 Lynette grew up in Wellington, New Zealand and studied dentistry in Dunedin at the University of Otago. She graduated in 2007 with a Bachelor of Dental Surgery with honours. She was now ready for the world and adventure! She decided it was time to go abroad and leave her home country, New Zealand, for a one year position as a Dental Officer at Westmead Centre of Oral Health, Sydney. Soon after arriving, she met her partner, who then became her husband, and with the many opportunities she found in Sydney, she could not help but make Sydney her home.
As a dentist, she is a great listener and always puts the patients interest first. Lynette understands how most people can have a difficult time seeing a dentist and always does her best to make you feel at ease, with a kind, empathetic and easy going attitude and her professional expertise. Patients are treated like her own family, with utter care and honesty, and sometimes with "tough love". She takes a lot of pride in her work and is devoted to ongoing education as seen by her extensive continued professional development.
---
Dr. Karen Su
---
Karen completed her dental degree at Griffith University on the Gold Coast, where she received numerous academic awards and actively participated in rural volunteering trips. Since returning home, she has worked across private practices in Sydney's north and is delighted to be joining the team at Neutral Bay Family Dental.
Karen is a caring and gentle dentist who always puts her patient's best interests first. She enjoys all aspects of general dentistry and especially loves treating kids. Having had her fair share of work done in her mouth when she was young, she knows first-hand the anxiety and discomfort can be associated with dental work. Hence, Karen aims to make the dental visit as fun and relaxing as possible for both children and adults.
When she is not at work, Karen enjoys drawing and walking her dog. She likes to stay fit and you can find her at the gym on most nights.